HONK Partners with the City of San Luis Obispo to Create A Safe and Easy Parking Experience
Drivers in San Luis Obispo can now pay for parking on their phone using the HonkAPP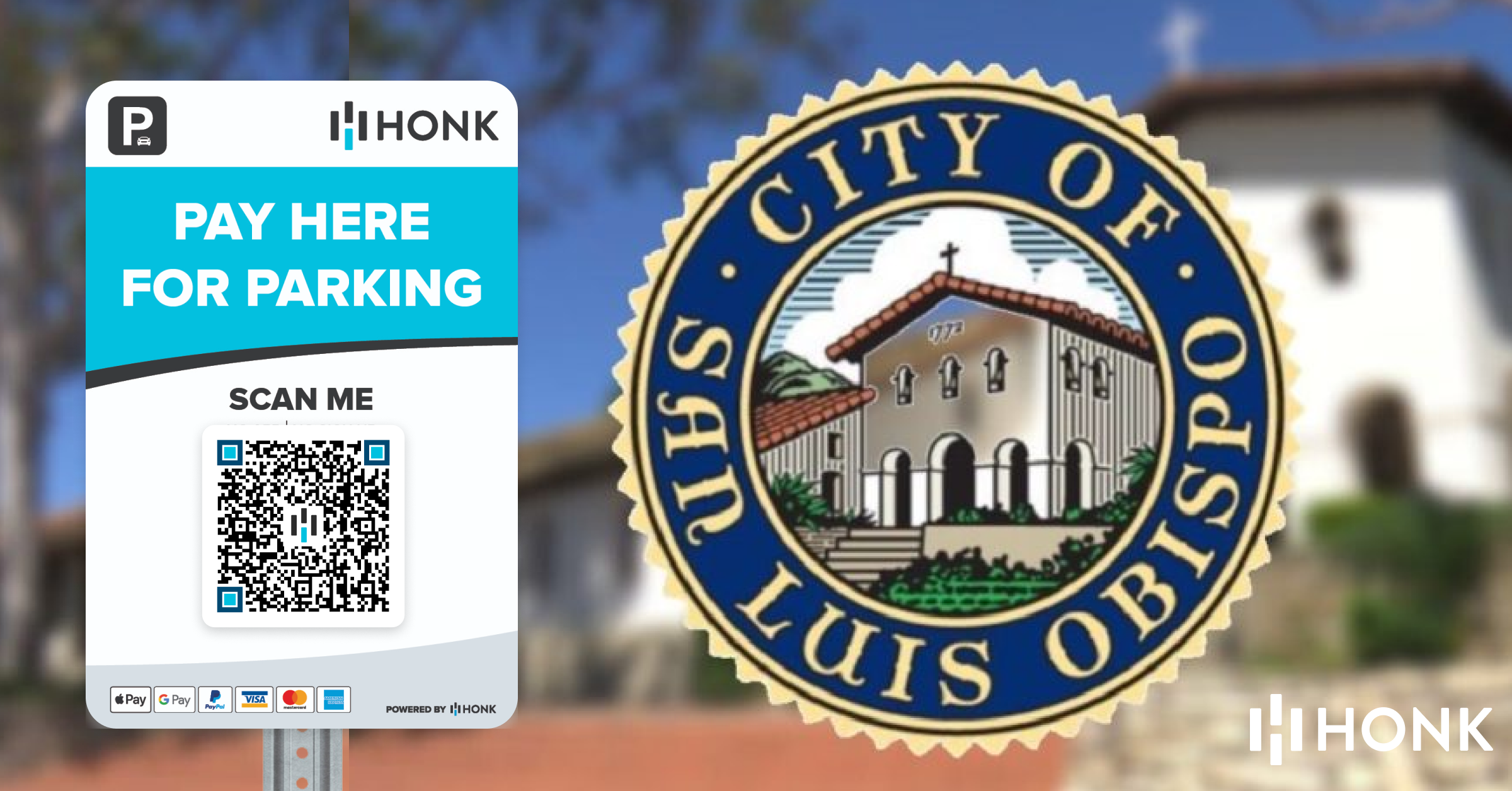 SAN LUIS OBISPO, CA, Oct 22, 2021 – The City of San Luis Obispo has partnered with HONK, North America's leading provider of contactless payments, to give drivers access to a safe, accessible and convenient way to pay for downtown parking. Starting immediately, visitors to downtown San Luis Obispo can pay for street parking by downloading the free HonkAPP from the App Store or Google Play.
"Paying for street parking is now more convenient than ever before. Visitors to downtown San Luis Obispo can pay for parking using a mobile app they may already have installed," said City Parking Programs Manager, SLO, Gaven Hussey.
Drivers to downtown San Luis Obispo can choose to bypass the traditional pay station and pay for parking safely and easily from their phone. Without ever touching a machine or waiting in line, drivers can seamlessly pay for parking directly from their mobile device. Simply click, pay, and walk away. The HONK payment system integrates directly with San Luis Obispo's enforcement – passing paid parking sessions to enforcement officers in real-time.
Drivers can opt to receive a 15-minute text reminder before their parking session is set to expire, and are given the option to add more time directly from their phone. The ability to top up via the app eliminates the need to ever run out and feed the meter. Drivers can pay via the mobile wallet of their choice (Apple Pay, Google Pay and PayPal) and all major credit cards.
"We're thrilled to partner with the City of San Luis Obispo and expand our presence in California," said Michael Back, HONK Founder and CEO. "This affordable add-on to the City's pay-by-plate machines gives safety-conscious drivers access to a safe and easy payment option."
About HONK
HONK is North America's leading provider of safe, contactless payments for the parking industry. Since 2013, HONK has been creating touchless solutions to make paying for parking easier, faster, and safer for drivers. Motorists can download the HonkAPP to search and pay for parking, and extend their parking session right from their phone. Or they can opt to use HonkTAP smart stations for a contactless way to pay. Simply tap or scan a mobile phone — no app download or pay station required. HONK is trusted by millions of drivers, and is accepted at over 5,000 locations across the United States and Canada.
For information, interview and images, please contact: