HONK Expands Its Contactless Parking Services to Surrey BC
Drivers in Surrey now have access to the safest parking experience in the country!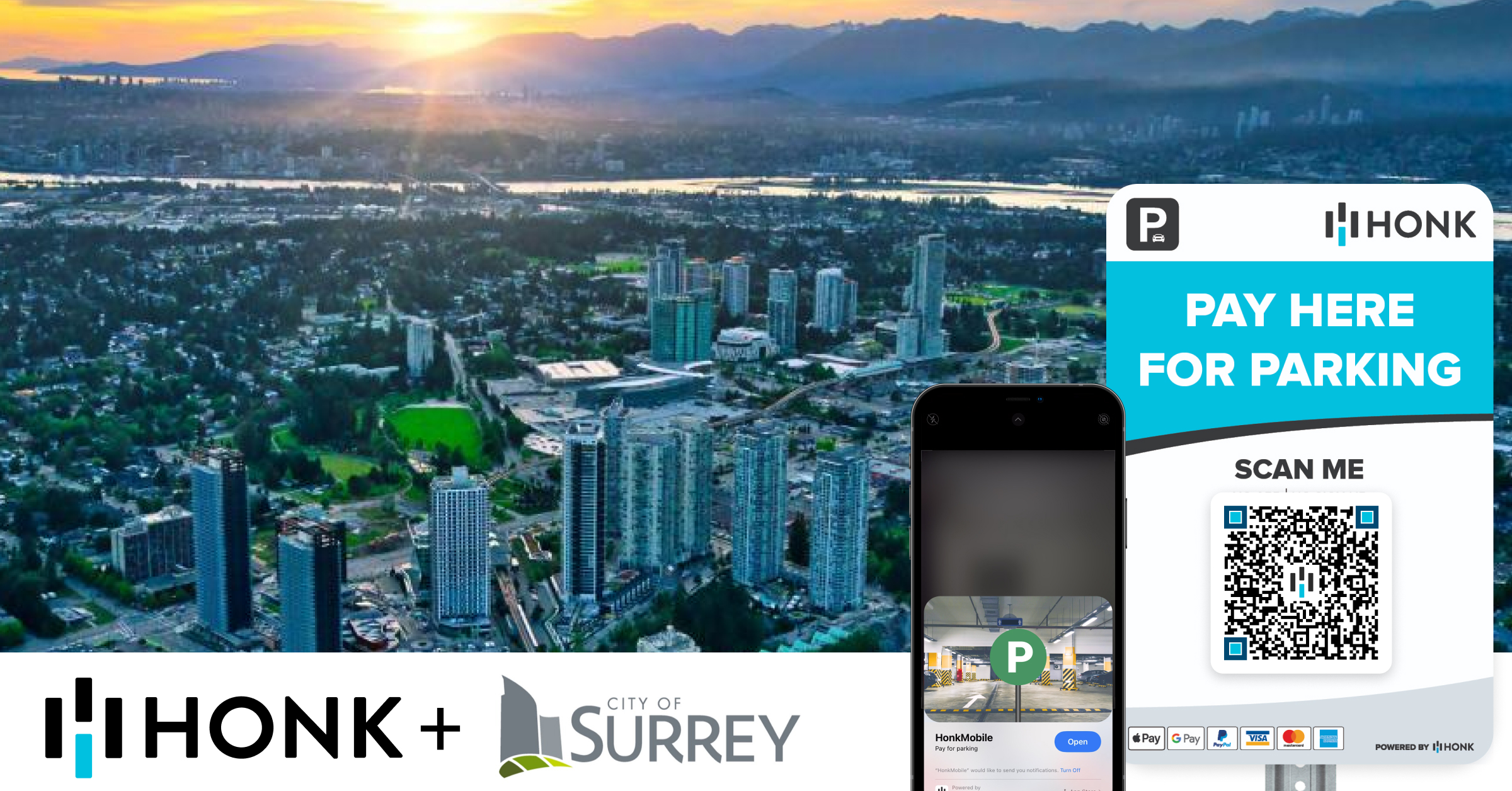 SURREY BC, Oct 13, 2021 – The City of Surrey has partnered with HONK, North America's leading provider of contactless payments for parking, to offer residents and visitors access to a safe, accessible and easy way to pay for parking. Drivers have two touch-free ways to pay with HONK: (1) scan their phone on a QR code located onsite for a quick guest checkout experience, or (2) download the free HonkAPP from the App Store or Google Play.
With no app to download or pay station to touch, paying for parking is easier and safer than ever. Drivers scan a QR code located onsite and a pop-up notification appears on their mobile device that opens to a payment screen that is pre-loaded with rate options. Drivers simply type in their license plate and select for how long they want to park. The HONK payment system integrates directly with Surrey's enforcement – passing paid parking sessions to enforcement officers in real-time.
For app lovers, the HonkAPP is another contactless payment option for drivers who wish to pay for parking and manage a session directly from their phone. As with the QR-based payment method, drivers can pay via Apple Pay, Google Pay, PayPal, Debit and all major credit cards. Drivers can also opt to receive text reminders when their parking is set to expire, and can add more time to their parking session directly from their phone.
"We're thrilled to expand our footprint in BC and launch our contactless parking solution in Surrey," said Michael Back, HONK Founder and CEO. "This new parking option is a win-win for the City of Surrey and its drivers – it's easy to implement with absolutely no maintenance, and it's safe and quick for parkers to use."
About HONK
HONK is North America's leading provider of safe, contactless payments for the parking industry. Since 2013, HONK has been creating touchless solutions to make paying for parking easier, faster, and safer for drivers. Motorists can download the HonkAPP to search and pay for parking, and extend their parking session right from their phone. Or they can opt to use HonkTAP smart stations for a contactless way to pay. Simply tap or scan a mobile phone — no app download or pay station required. HONK is trusted by millions of drivers, and is accepted at over 5,000 locations across the United States and Canada.
For information, interview and images, please contact: