Ontario Place Adds Honk's Touch-Free Payments to Create Safety-First Parking Experience
New touch-free, no app payment option allows visitors to park the safer, cleaner way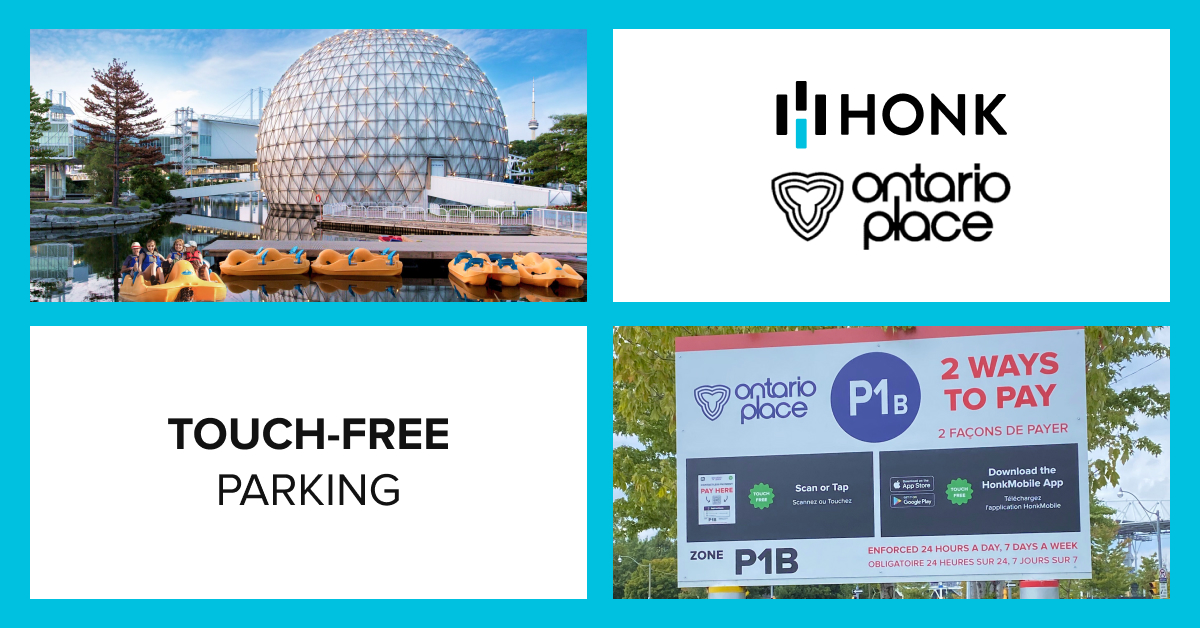 TORONTO, ON, Jan 21, 2020 – Honk, North America's leading provider of contactless payments for parking, launches its clean, touchless parking experience for visitors to Ontario Place, Toronto's popular entertainment and event venue. Ontario Place has implemented Honk's touch-free parking solutions to ensure that parking is safe, accessible, and easy for drivers. Visitors now have two touch-free ways to pay for parking: (1) via Honk's patent-pending HonkTAP smart stations, or (2) by downloading the company's award-winning HonkAPP from the App Store or Google Play.
In the age of COVID-19, it's no longer a matter of having a single payment solution for drivers — consumers everywhere are demanding touchless payment options and overwhelmingly prefer the safety and cleanliness of using their mobile phone over interacting with high-touch pay stations and parking meters.
"Contactless payments not only give visitors a cash-free, touch-free way to pay — they also eliminate lines at pay stations, enable capacity control, and give the parking operation greater flexibility to operate," says Michael Back, Honk Founder and CEO. "We're proud to equip Ontario Place with our patent-pending technology, enabling a safer end-to-end parking experience for their visitors."
What makes HonkTAP different is that drivers can safely pay for parking in seconds, with a simple tap or scan of their phone. This new guest-checkout option has all the convenience of an app — including the ability to opt in to receive parking expiry notifications, and add more time from a device — without the need to download an app or set up an account.
Paying for parking via the HonkTAP Smart Station is fast and easy. Drivers simply:
Scan or tap their phone on a HonkTAP Smart Station
Select time and enter license plate details
Pays with Apple Pay, Google Pay, Credit Card, Debit Card or PayPal
Drivers from all over can now enjoy the 155 acres of waterfront at Ontario Place — and park safely while they're there!
About Honk
Honk is North America's leading provider of safe, contactless payments for parking. Since 2013, Honk has been creating touchless solutions to make paying for parking easier, faster, and safer for drivers. Motorists can download the HonkAPP to search, find, pay for, and extend parking right from their phone, or they can use HonkTAP contactless Smart Stations to safely pay for parking with a simple tap or scan of a mobile phone — no app download or pay station required. Honk is trusted by millions of drivers across North America.
For information, interview and images, please contact: