Honk and USP Parking Bring Contactless Parking to Washington DC
Drivers in Washington can now skip the pay station and safely pay for parking from their phone – No App, Just Tap!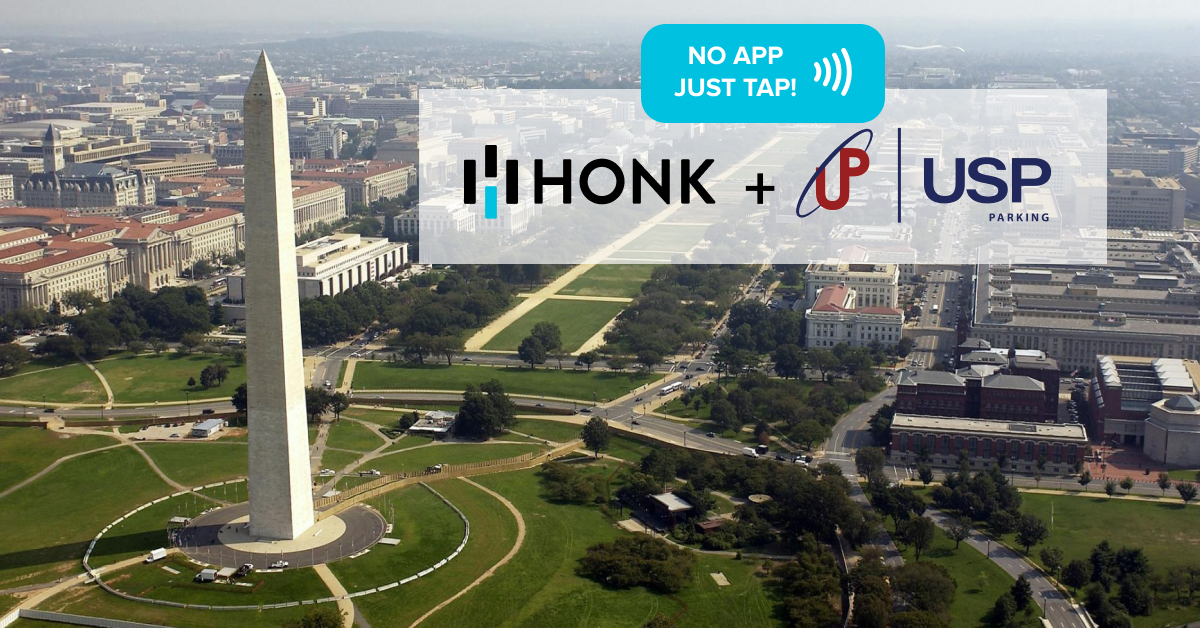 WASHINGTON, DC, October 6, 2020 – Honk, the leader in contactless payments for parking, and USP Parking, DC-based parking facility management company, announced today a partnership that brings contactless parking payments to Washington DC. The coronavirus outbreak has highlighted the need for everyday services that reduce physical contact. Thanks to Honk's patent-pending touch-free solution - HonkTAP - drivers can now bypass high-touch pay stations and safely pay for parking with a simple tap or scan of their phone.
"We're thrilled to partner with USP Parking and equip their Washington parking facilities with our contactless payment technology," says Michael Back, Honk President and CEO. "There's a new wave of consumers' expecting safe and touchless payments – through our partnership with USP, safety-conscious drivers in Washington now have access to the cleanest way to pay for parking."
USP Parking rolled out HonkTAP smart stations at various surface parking locations across Washington DC. With no pay station or cash to touch, drivers simply - and safely - tap or scan their smartphone on a HonkTAP smart station to pay for their parking session.
HonkTAP has all the much-loved features and functionality of an app, without the download or account setup. HonkTAP works with all smartphone types and accepts Apple Pay, Google Pay, PayPal, and all major credit and debit cards. Drivers have an option to receive text reminders when their parking is set to expire and the ability to add more time remotely.
"Providing our customers with the safest parking experience is our top priority," says Ben Tesfaye, Director of Operations, USP Parking. "Our partnership with Honk allows us to deliver on our safety-first mission. As we restart our valet services in the months ahead, we'll incorporate Honk's touch-free technology into the valet experience as well."
Drivers in Washington DC are encouraged to search for USP Parking locations by accessing www.honkmobile.com to find the absolute safest parking in The District.
About USP Parking
USP Parking is the leader in Parking management, Janitorial, and Transportation Services in the East Coast. Our mission is to continue our organic growth as the premier facility management organization and offer our VIP's a variety of first-class services delivered by highly trained, engaged, and motivated service fanatics. USP understands the quickly evolving service industry and technology hence, is a pioneer in adapting best technology to provide its clients and customers with a superior service.
About Honk
Honk is North America's leading provider of safe, contactless payments for the parking industry. Since 2013, Honk has been creating touchless solutions to make paying for parking easier, faster and safer for drivers. Motorists use the company's patent-pending HonkTAP contactless smart stations to safely pay for parking with a simple tap or scan of a mobile phone - no app download or pay station required or download the HonkAPP to search, find, pay for, and extend parking right from their phone. Honk is trusted by millions of drivers, and is accepted at over 3,000 locations across the United States and Canada.
For information, interview and images, please contact: