Honk Makes Paying for Electric Vehicle Charging at UBC Easy & Touch-Free
First parking company to create a contactless pay-for-EV charging solution for drivers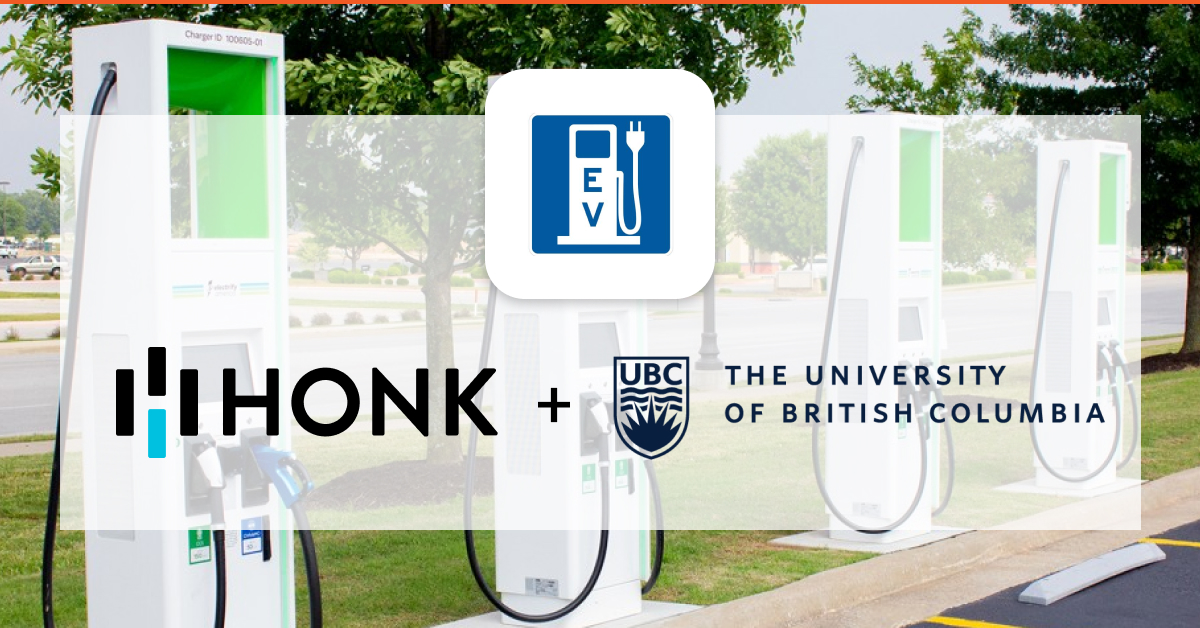 VANCOUVER, BC, August 12, 2020 – Honk, North America's leading provider of safe, contactless payments for parking, today launched an Electric Vehicle (EV) charging initiative with the University of British Columbia (UBC), creating an easy and touch-free way for students, faculty, staff, and visitors to pay for EV charging on campus using their mobile device.
To date, 30,000 electric vehicles have been sold in British Columbia, making electric vehicle sales in the province the highest per capita in North America. As such, Honk has created a pay-for-EV charging program for UBC — the second largest commuter destination in Metro Vancouver — using a contactless payments solution technology to encourage drivers to use green transportation to and from campus.
EV charging is available at 7 locations across the UBC campus, with a total of 74 charge stations. With Honk's new technology, there are 3 touch-free ways for drivers to pay for EV charging on campus. Drivers can: (1) use the Honk app that has been available at UBC since 2017, (2) tap a phone on a designated NFC smart station found by every EV charging station to initiate payment, or (3) scan their phone camera on a QR code at any of the smart stations for the same experience. Once paid, the EV charging station launches, the driver can plug in and charge their car for the amount of time purchased. Enforcement officers have access to purchase data and know when time has expired.
The fee system encourages drivers to move their vehicles once charged and ensures all electric vehicle drivers visiting UBC can find a charge-spot when needed. In addition to ensuring a higher turnover at these spots, the new fees will provide an additional source of revenue for the school — money that will go directly into research.
"Since the launch of Honk as the official mobile parking app for UBC over 3 years ago, Honk has delivered enormous value to our school and drivers visiting campus – providing drivers with a safe, contactless way to pay," said Brian Jones, Director Parking & Access Services, University of British Columbia. "The expansion of EV charging on campus is a significant milestone for the public use of electric cars as UBC sees thousands of commuters every day. This partnership with Honk will bring enormous benefits to our environment as it supports sustainable, green transportation."
"We are proud to be the only parking company on the market to offer contactless payment for EV charging," said Michael Back, Honk President and CEO. "Our team at Honk understands that as we transition to a low-carbon future, the needs of our customers are evolving — which is why we are excited to expand our offerings to support the growing number of electric vehicles on the road. It's through collaborations like this one with UBC that we will revolutionize driving and help the environment by successfully reducing auto emissions."
About HonkMobile
Honk is North America's leading provider of safe, contactless payments for the parking industry. Since 2013, Honk has been creating touchless solutions to make paying for parking easier, faster and safer for drivers. Motorists can download the HonkAPP to search, find, pay for, and extend parking right from their phone or use HonkTAP contactless smart stations to safely pay for parking with a simple tap or scan of a mobile phone - no app download or pay station required. Honk is accepted at over 3,000 locations and trusted by millions of drivers across Canada and the United States.
For information, interview and images, please contact: